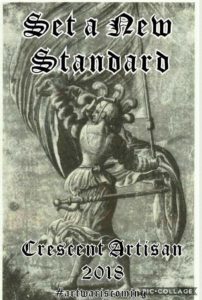 Do you hear that? The beat of the drums in the distance? The melodies being sung by beautiful voices? The clang of the warriors' armor as the approach?  Those sounds can only mean one thing – Art War is coming!! But this is no ordinary Art War, this is the premier Crescent Artisan event!!
Join us as we celebrate Caid's artisans during a weekend camping event on March 23 – 25, 2018
It will take place at: Schmidt Park, 13576 Mustang St, Victorville, CA 92394.
Schedule of events:
Site will open at 1:00pm Friday afternoon
Site will close at 2:00pm Sunday afternoon
Competition and Tourney schedule TBD
Registration Cost: TBD
Checks will be made payable to "SCA, Inc./Barony of Dreiburgen"
with questions about the competition or tournament or questions regarding the site1
Crescent Artisan Competition
The highlight of the event is the arts competition that will determine Caid's Premier Crescent Artisan.  Rules for the arts competition can be found here: https://tinyurl.com/caidcrescentartisan.  We encourage you to join the Caid A&SCompetition Facebook group to join in on more dynamic conversations about the competition.
The Prize for this competition is below:
Crescent Artisan – a custom wooden box made by Master Klaus (artisan who made the thrones of Caid)
Defender of the Arts tournament
The event will also feature the Premier Defender of the Arts tournament for both heavy weapons and rapier.  Information about the tournament and how to qualify can be found here: https://tinyurl.com/caidartsdefender.
The prizes for the tournament is below:
Defender of the Arts, Heavies – a custom helm (up to $1,000 value) made by Sir Niccolo
Defender of the Arts, Rapier – a custom shoulder cape made by Mistress Caterucia