King Valrik MacIan and
Queen Drada de Variis
Royal Progress
Event
Date
Valrik
Drada
Calafia Winter Arts
4-Dec-21
Yes
Yes
Coronation (Nordwache)
8-Jan-22
Yes
Yes
Privy Council (Nordwache)
9-Jan-22
Yes
Yes
Un-Modified Rapier Tournament (Calafia)
15-Jan-22
yes
no
Consort's Champion Marshal (Altavia)
22-Jan-22
yes
Yes
Consort's Champion Ranged (Lyondemere)
23-Jan-22
maybe
Yes
Gyldenholt UnBelted
29-Jan-22
yes
yes
Festival of the Rose (Dreiburgen)
5-Feb-22
yes
Yes
Pelican Meeting
6-Feb-22
yes
Yes
Wintermist Rapier War
18-Feb-22
No
Yes
Tanwayour Anniversary (Canton of Calafia)
26-Feb-22
Yes
Yes
Crown Tournament (Naevenhjem)
5-Mar-22
Yes
Yes
Gulf Wars
Mar, 12-20, 2022
yes
yes
Queen's Champion Equestrian (Calafia)
26-Mar-22
No
No
Dun Or Anniversary
2-Apr-22
Yes
no
Pentathalon (Wintermist)
April 9-10
no
yes
Al-Sahid Anniversary
16-Apr-22
No
Yes
Starkhafn Anniversary
23-Apr-22
yes
yes
Nordwache Anniversary
April 29, 30 May 1
no
yes
Lyondemere Art and Archery
30-Apr-22
No
No
Darach Anniversary
7-May-22
No
No
Summergate Anniversary
7-May-22
No

Yes

Altavia Anniversary

Wintermist Anniversary

14-May-22

21-May-22

Yes

no

Yes

yes

Potrero War
May 26 – May 29
yes
yes
Gyldenholt Anniversary
4-Jun-22
yes
yes
Collegium
11-Jun-22
no
yes
Carreg Wen Anniversary
18-Jun-22
Yes
No
St. Corrigan's "Day" (Dreiburgen)
June 18-19
No
Yes
Lyondemere Anniversary
25-Jun-22
yes
yes
Coronation (Gyldenholt)
9-Jul-22
Yes
Yes
 
 
 
 
Co-Chamberlains
Duchess Bridget Lucia Mackenzie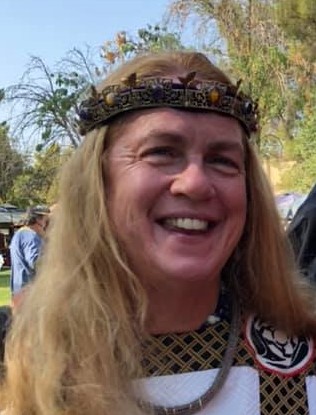 Sir Kuma

Contact our Chamberlains at crown
Chief Lady in Waiting – Sorcha Fraser
Guard Captain – THL Magnus of Corvus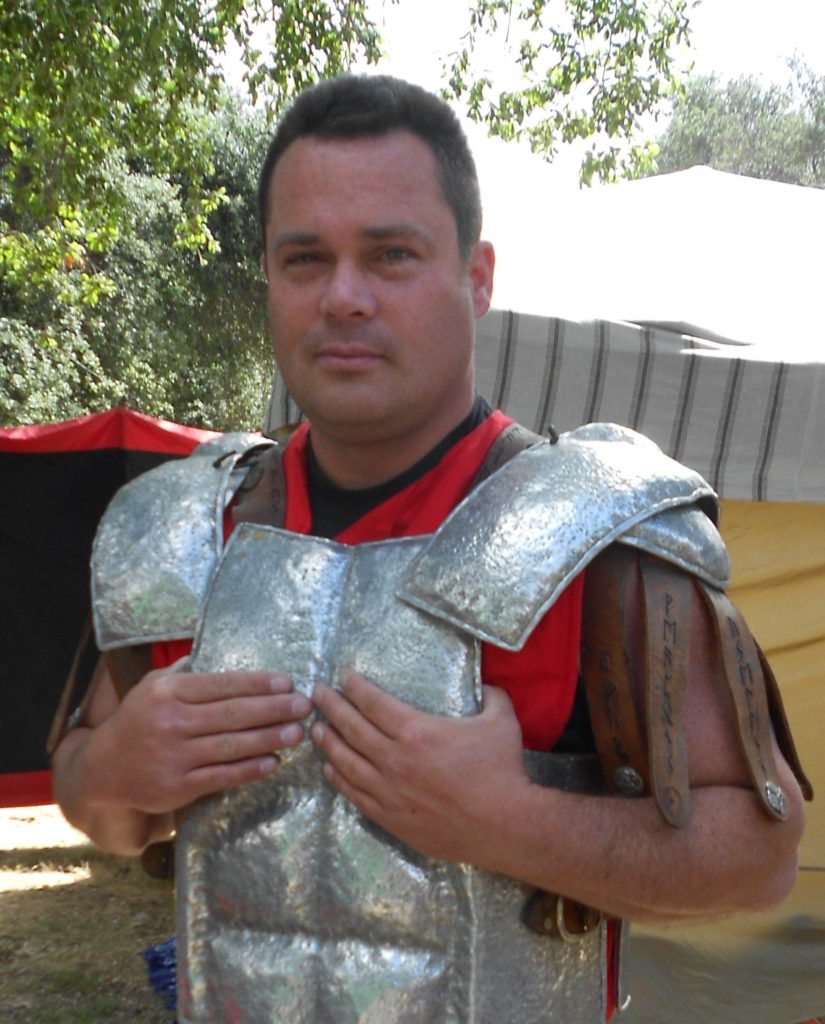 Preferences & Wishes 
Valrik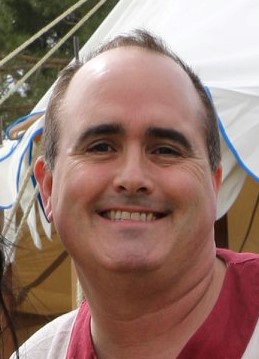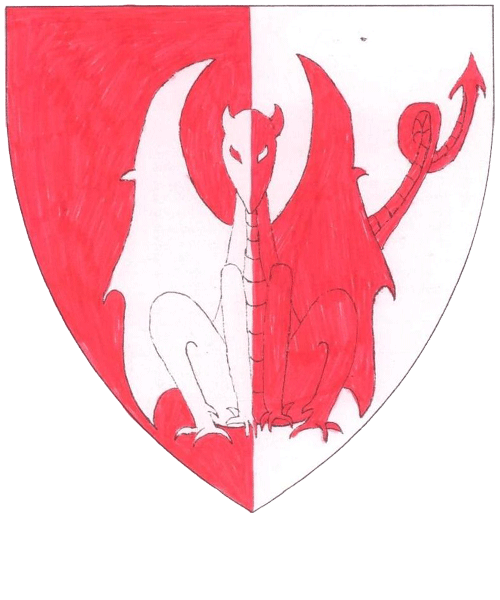 Persona:  Valrik has lived many lives:
1) 420 AD British soldier serving in the legions who were left behind in Britain when the majority of the legions were taken to Gaul by Constantine III in 410.
2) Rus landed warrior in early 800s
3) Kurdish caravan guard in Holy Land 1100s
4) Macedonian/Ephesian naval officer serving Ptolemy I after the death of Alexander.
Colors:  Red, White, Gold in garb, he like rich earth tones and jewel tones layered on them. Pastels are tricky, you got to wow him for him to wear pastels!
Hoping:  Late Roman Tunics & Pants, Rus Kaftans (silk, block printed)-under tunics and over tunics.  Macedonian/Greek Chitons and miscellaneous gear to fill out my kit (hats, socks, riding pants).  I am fond of tunics that have painted or embroidered cuffs, neck lines, hems, something that works with the overall outfit but adds some cultural flair (i.e. the border on a Greek chiton, accompanied with some images around neckline)
Other Interests:  He is interested in garb (including small clothes, headwear, socks, mittens), accoutrements, jewelry revolving around the 4 different personas listed above.  He really appreciates hand crafted leather work, weaving, painting, things that are expertly crafted but not always perfectly symmetrical. The beauty is in the hand-made.
Foods
Prefer — He usually eats a keto friendly diet, so all meat types, charcuterie, almost any cheese unless it can clear a room, green leafy vegetables, tomatoes, cucumbers, cruciferous vegetables that are cooked.  Nuts, yes! He does not eat carbs very often but he will rarely turn down a small fresh baked scone.
No Thank You – alot of sweets, bread/carb heavy dishes, junk food, Raw Walnuts.
Drinks
Prefer —Water, Mineral Water, Coffee (unsweetened with cream or milk, or black is fine) Vodka, Red Wine, Dry White Wine,
No Thank You — Sodas, Sweet Wines, Sweet Liqueurs
Allergies — Humorless Individuals (besides, that none)
Drada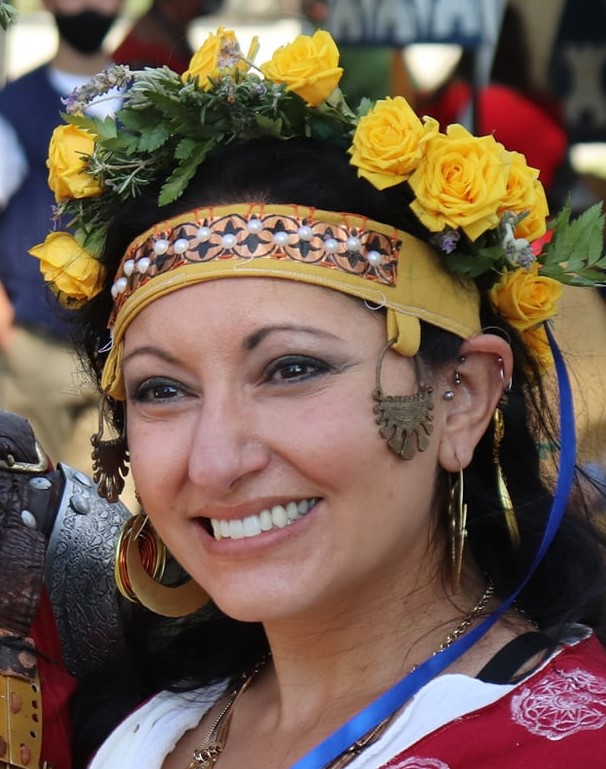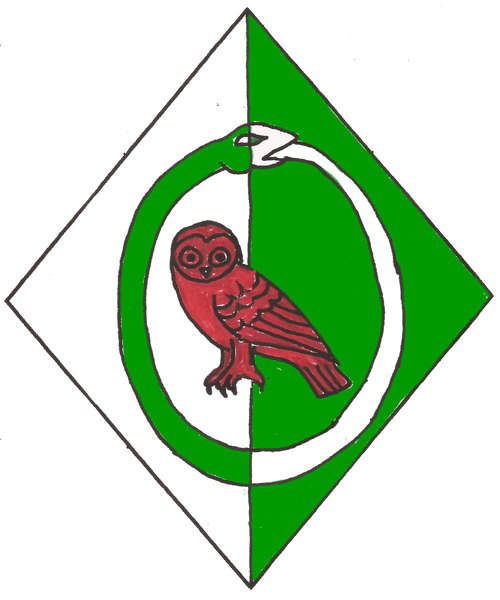 Persona: Daughter of a wealthy Italian and Spanish couple. She ran away from the life she was supposed to have for one she wanted. And now she travels the trade routes through cities and towns, enjoying life. In her travels, Drada appreciates the garb of Viking and Kievan Rus, as well as ancient civilizations of the classical period:, Roman, Greek, Scythian and Egyptian.
Favorite colors are red, black, orange and green. Not pink, nor leopard print
Hoping for: Knockdown lay-flat furniture for her new period pavilion. Garb- Slavic, Persian, Turkish, Greek, Roman, Viking, Kievan Rus, Venetian, Tudor, she open to anything!
Some nice period shoes would be great. Hair jewelry, necklaces, rings, bracelets, earrings to accessorize her garb.
Nice sturdy feast gear for dinner situations.
Loves natural products and sustainable, reusable items. Owl and Snake images in SCA usage, like garb and furnishings.
Drada keeps bees, so she does not need more honey, beeswax or anything bee-product affiliated.
Foods:
Prefer: charcuterie, lamb, vegetarian food, Mediterranean is usually a safe bet. Fruit, veggies, nuts(not walnuts) to snack on
No Thank You: chicken (or any poultry), turkey, ham, sausage. Any uncooked meat. Walnuts
Drink:
Prefer: water, Coke zero, coffee, tea and tea non-dairy lattes (oat and soy milk are easy on the tummy!) Spirited beverages: gin and tonic with lime, red wine.
No Thank You: margaritas or mead
Allergies: wool, witch hazel, milk sensitivity